You can download a copy of any accessible interview audio on archive.storycorps.org to a desktop or laptop computer by following the steps below:
Navigate to the interview page
Click the share icon on the media player (seen below) to access the share menu.

On the share menu, select Download from the list of available options.

After you've selected Download, the steps you need to take to finish downloading the audio will depend on which web browser you are using.
Safari
If you're using Safari, the interview audio will be automatically downloaded to your computer and you do not need to take any additional steps to complete the download.
Google Chrome
If you're using Google Chrome, you'll be redirected to a screen with a stand alone media player. To complete the interview download, select the three dots on the right side of the media player and select Download from the dropdown menu.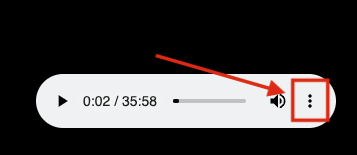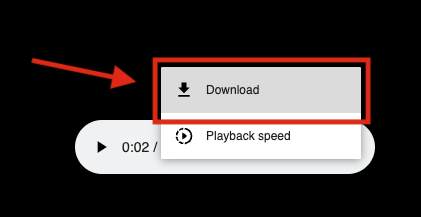 Mozilla Firefox
If you're using Mozilla Firefox, you'll be redirected to a stand alone media player. To complete the interview download, right click the media player. A drop-down menu will appear and you can select Save Audio As to save the audio to your computer.

Can't find your StoryCorps App interview in the Online Archive?
If your interview does not appear on archive.storycorps.org and it is an App interview, that means the only copy of the interview is on the device you used to record. Follow the export instructions in this article.
StoryCorps App: USB Export Instructions
If you recorded onsite or virtually with a StoryCorps facilitator, and your Signature StoryCorps Interview is not available in the Online Archive, you can submit a request so our Public Support team can send you a link to download your interview. In your request, please include your interview ID, the names of all participants, and the date you recorded your interview.