The way you update your privacy settings depends on whether you recorded an App interview, StoryCorps Connect interview or recorded a StoryCorps Signature interview at a StoryBooth / with a trained StoryCorps facilitator.
If you recorded a StoryCorps Signature interview (at a StoryBooth or with a trained StoryCorps facilitator)
:
You must claim your interview before you can update your privacy settings.
First, claim your StoryCorps Signature interview.
Now, find your interview:
In the upper right-hand side of your account page, you'll see an avatar / silhouette.

Click the avatar / silhouette.

In the dropdown box, hit "My Interviews & Profile"

You will see a list of the interviews you've claimed. Click on the interview whose privacy you'd like to change.

You are now in the interview record page.

On the right hand side, you'll see a list of grey buttons. Hit the "Edit Visibility" button.

Hit the button for the privacy setting you'd prefer.

Hit "Update"

An email will confirm your privacy setting update.
You've just updated your interview privacy setting!
Please note that anyone else who's claimed the interview (most likely your interview partner) can also update the privacy settings. When this happens, you will receive an email to notify you of the change.
Signature Interviews Locked to Private
In some rare instances StoryCorps reserve the right to lock a
Signature interview's
privacy setting to private. If this applies to your interview you will see a lock icon with the text "Interview Visibility is Locked". This means that your privacy setting cannot be changed and your interview will only be accessible to yourself and your interview partner (if they also claim the interview).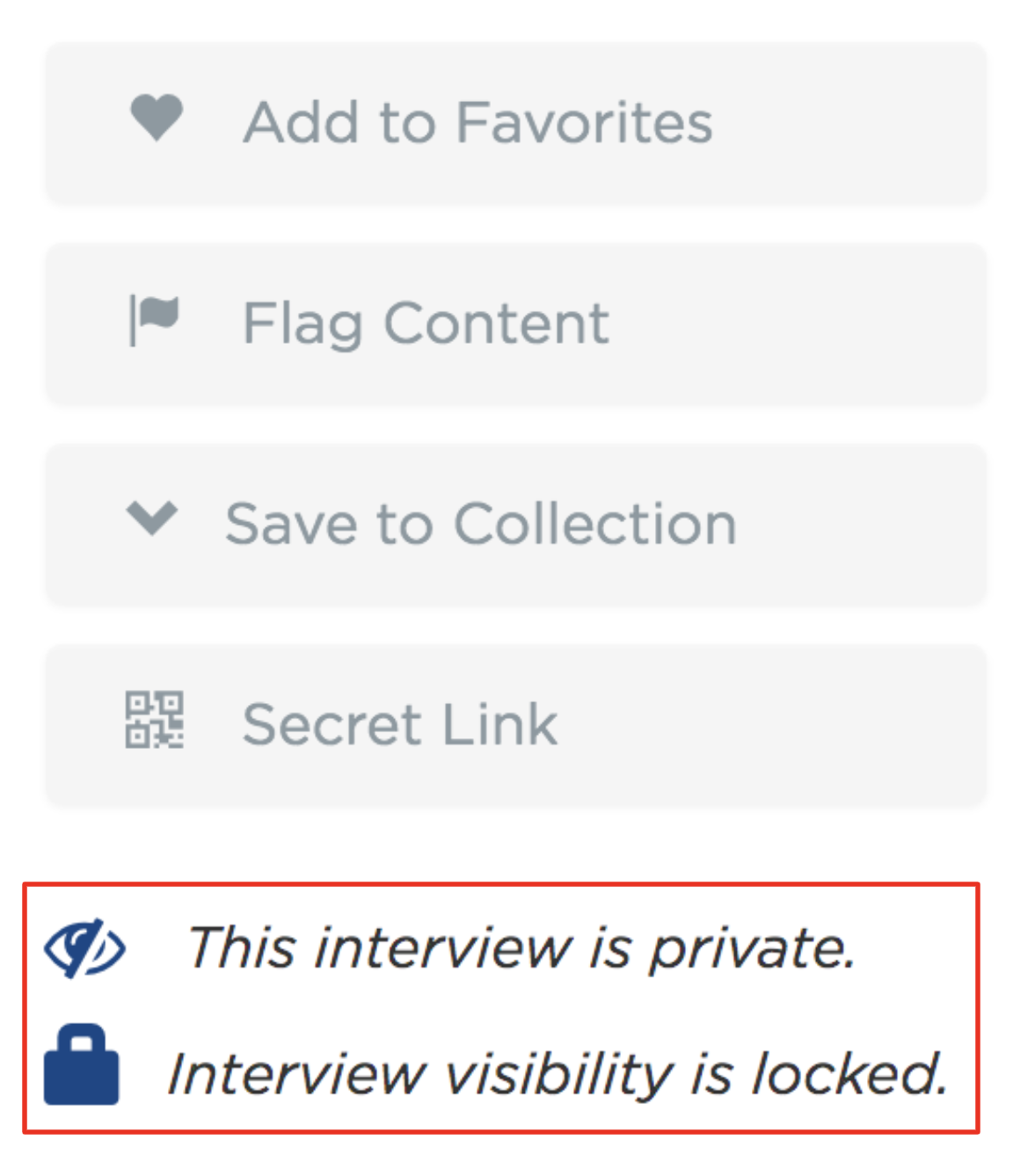 While interviews locked to private are not publicly searchable or able to be shared widely, you can still share your interview with friends and family using a secret link. You can learn more
here
.
If you have questions about why your interview was locked to private, please reach out to StoryCorps public support by emailing
contactus@storycorps.org
. Make sure to include your name and to indicate which interview you are referring to in your message.
If you recorded with the StoryCorps App:
You can update your privacy settings for each interview you record. These can be changed from either the app or archive.storycorps.org, and your selection will apply in both locations.
Remember, updating your privacy settings controls who on the web can listen to your interview, but StoryCorps' Terms of Use and Privacy Policy still apply. For signature/facilitated interviews, your release status still applies. You can learn more about your privacy settings here.
Updating your privacy settings from the StoryCorps App
Log in

Locate an existing interview

Tap the three (...) dots (lower right)

Select

Edit Info

Scroll down to the

Who Can Listen to this Interview?

section

Select

Edit

Select your privacy setting

Press the

Save

button
Updating your privacy settings from archive.storycorps.org
Remember that your interview will only appear on archive.storycorps.org if it has been published. You can edit the privacy settings of your published interview by following these steps:
Log in to

archive.storycorps.org

Click your profile photo (upper right)

My Interviews & Profile

Click anywhere on an interview's card (or click the gear icon)

Edit Interview

Click the

Privacy

label in the far left menu (or scroll down to the

Who Can Listen to This Interview?

section)

Select from

Everyone/StoryCorps Community/Private
Save & Archive
If you recorded a StoryCorps Connect interview
Updating your privacy settings from archive.storycorps.org
You can edit the privacy settings of your published interview by following these steps:
Log in to

archive.storycorps.org

Click your profile photo (upper right)

My Interviews & Profile

Click anywhere on an interview's card (or click the gear icon)

Edit Interview

Click the

Privacy

label in the far left menu (or scroll down to the

Who Can Listen to This Interview?

section)

Select from

Everyone/StoryCorps Community/Private
Save & Archive