After your interview is uploaded to the StoryCorps online archive, it should be available for you to listen to shortly. However, it is possible for something to go wrong with an upload from the StoryCorps App due to internet connection issues, unexpected high traffic on our servers, or a file being corrupted during the upload. If you suspect something may have gone wrong with an interview you uploaded, you can check on your profile page to see if the interview's status is "Failed". The information below will help you remedy the situation
Please note: If your interview was recorded with StoryCorps Connect or is a Signature interview (recorded by appointment with a StoryCorps facilitator) and appears as "Failed" on your account, please reach out to StoryCorps' Public Support Team.
How to identify a "Failed" interview
All interviews associated with your account (including user-generated interviews uploaded to the online archive and Signature interviews you have claimed) will appear on your profile page. To find your interviews.
Go to archive.storycorps.org.
Click "Log in" in the top right corner and log in to your account (the same account you use on the StoryCorps App will work on archive.storycorps.org).
Once logged in, click on your profile image in the top-right corner.
On the drop-down menu that appears, select "My Interviews & Profile".
Scroll down to the bottom of your profile page.
If you have any "Failed" interviews, there will be a section at the bottom of your profile page that appears like the image below: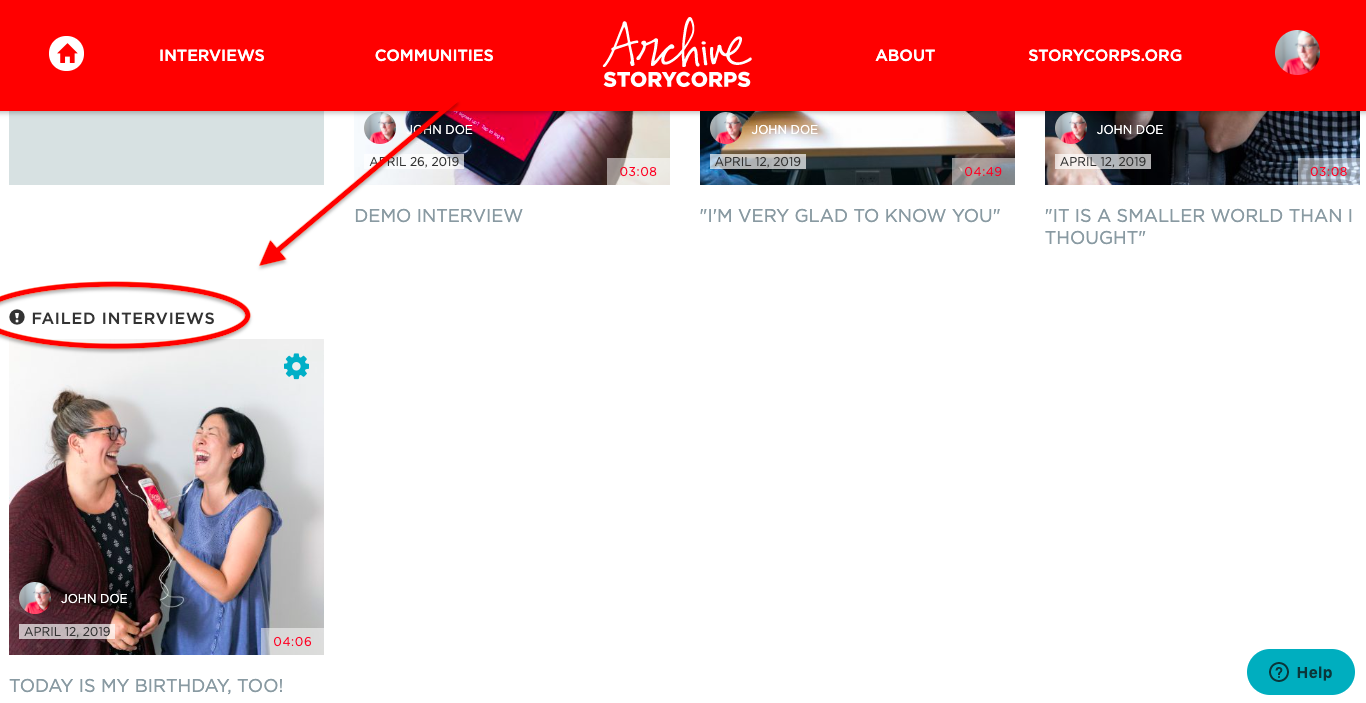 The title, image, and other information for the interview in this example were successfully uploaded but the largest component of the interview: the audio file, was not successfully uploaded. This is why the interview is in the "Failed Interviews" section.
The Failed Interview section and the interviews contained within it are only visible to you and StoryCorps Staff. Others who go to your profile page will be unable to see these interviews.
How to correct a "Failed" upload of a StoryCorps App interview
If your upload of a StoryCorps App interview failed, don't panic! Depending on what went wrong with your upload, you should be able to easily fix this.
Option 1: try publishing the interview from the App again.
Depending on exactly what went wrong with your upload, it is very likely that you will still see the option to "Publish" your StoryCorps App interview when you view it in the App. If your upload failed, you can simply try publishing again using the exact same steps.
If you're having difficulty publishing, we suggest trying the troubleshooting steps in this article.
Option 2: export your audio and upload it via archive.storycorps.org
If the option to "publish" your interview is no longer available in the StoryCorps App, it may be because your interview was further along in the publishing/uploading process when it failed. In this case, we suggest exporting the audio file of your interview from your mobile device to your computer and uploading it to the online archive directly. Here's how:
First, you'll need to export your audio file. You'll find step-by-step instructions in this article in our Help Center. (Pro-tip! Exporting your audio via USB is the most stable way to export from the App. This is the last set of instructions you'll find in that article).
Next, log in to your account on archive.storycorps.org and go to your profile page.
Scroll down to the bottom of your profile page and click the failed interview you wish to correct.
This will open an edit screen where you can upload files and edit your interview details.
Click the "Select Files" button.
Chose the audio file of your interview that you have exported to your computer.
Click "Upload".
A blue bar will go across the screen tracking the progress of your upload.
When your upload is complete, scroll to the bottom of the page and click "Save and Archive".
That's it! Your interview should become playable on the online archive in a matter of hours (if not faster). For a visual step-by-step guide to this process, please see the below:
Here's an interactive tutorial
https://www.iorad.com/player/1748149/How-to-Upload-Audio-to-a-Failed-StoryCorps-App-Interview